We are surrounded by so many plastic toys everywhere that this is enough to make tin toys look totally attractive, romantic and even luxury. Fortunately tin toys have not disappeared - they are available today and are still pretty affordable (especially when imported from China).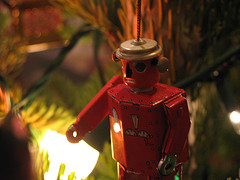 This hero tin robot won't burn in the fire. He's not some plastic loser!
Photo by brianfling
Why Tin Toys?
Why do people love tin toys so much? Why they are the first association which comes to one's mind when talking about retro toys or mechanical toys? Why do we write about them?
In short, because they rock. Tin toys have many advantages compared to the plastic toys - they are far more ecological and long living than them, they look better and more "real". Unlike a cheap plastic toy, one good tin toy can usually be
assembled and disassembled safely
with just a turnscrew. Yes, they still use bolts and nuts there.
The ability to disassemble a tin toy immediately turns it into an excellent gift for curious kids and teens, because it's easy to see what's inside and is encouraging to build the toy again together.
Finally, it's not as common as building toys from wood, but still there are many people who love to make tin toys themselves. I can't tell the same for plastic toys.
Most Common Types Of Tin Toys
What kind of toys are usually made of tin? Not plush bears obviously, but mostly the following:
Vehicles. Cars, trucks, motorcycles, tanks, airplanes, rockets. They are robust, can be driven well and simply look awesome.
Trains. Yes, the trains are also vehicles, but they deserve their own category. There is nothing more impressive than a well made tin toy train. It can't be compared to a plastic one even if the latter has a remote control.
Robots. Can you imagine a robot made of wood or plastic? No joke, some toy designers can. But it's totally insane. Would you be happy if your son becomes a designer of wooden cars when he grows up? A good robot toy is a tin robot toy - it's really that simple.
Whipping-tops. The best ones can also be made of wood, but the to tops are tin based. That ensures long life even in the hands of kids.
There are of course many others - animals, people, home electronics and so on. Tin can be used for any kind of toy. Well, except the Teddy-bear.
Actually, as you can see from this great book
, there are thousands of tin toys out there.
Making Tin Toys
Making tin toys is a harder task than making the other kind of retro toys. It requires higher skills, better tools and more patience.
Where do you get the tin from?
Of course you can just buy tin from somewhere but... you can as well use unused tin cans from coke, coffee, seasonings and so on!
Here is an excellent guide about making tin toys from cans. It's long and not very easy to read, but it's a real gem and is there for free.
We will publish some easier to follow visual guides about making tin toys on this site, so make sure you stay with us.
Tin Toys Safety
There is a word of caution required when talking about tin toys. They shouldn't be given to very young kids because of the risk of cutting one's finger. Also tin toys should be checked for rust. If you have bought quality tin toys they would be rust threaten, but self-made toys or cheap ones may rust sometimes which can be dangerous for kids.