Toys are bloody cheap nowadays. Especially the lower quality ones. Especially the plastic ones. Especially the Chinese ones :-) Who cares about quality? You can buy a toy that your kid will adore for the price of a good coffee. Then why would you ever think or want to make toys yourself?
Maybe because you care about the quality. Maybe for some other of these 10 great reasons: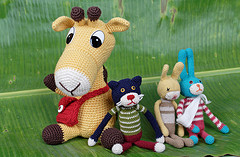 Even such ones you can make yourself!
Photo by mrtruffle
10. It's Fun!
Making toys quickly teleports you back in your childhood. And what's more fun than that? It's a great way to recall your best memories, feel a kid again and spend few careless hours. Of course if you approach this as adult and look at it like work that you must do in X minutes and make Y dollars, it's not going to be fun.
If you try to calculate the cost of the time spend and compare it to the price of the same toy it probably won't be fun either. It's something that you do for the sake of doing it and for having fun and relax, not for some material benefits.